Windows 11 which Microsoft has released, includes a major makeover as well as a slew of new features. Windows 11 has a redesigned Start menu with softened corners, but it also has a slew of productivity enhancements, such as Snap Layouts for running several programs at once.
In addition, Windows 11 has new widgets for staying up to current on the latest news, Microsoft Teams integration, and a new Windows Store. Furthermore, Android apps may be run on Windows 11.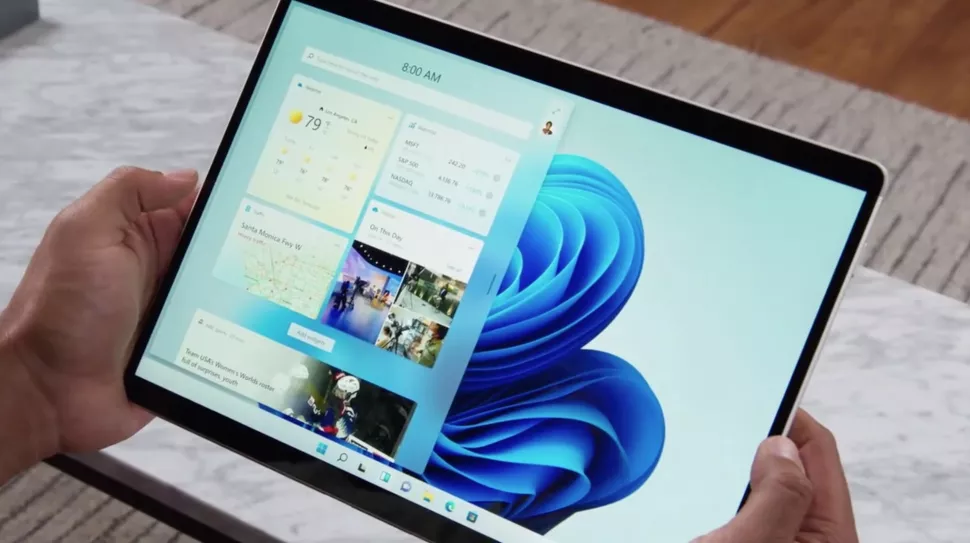 Gamers will be pleased with the addition of Auto HDR for better graphics, as well as quicker performance for Direct Storage-enabled PCs. And business users will appreciate the ability to undock and dock without losing their position.
Everything you need to know about Windows 11 is right here.
When will Windows 11 be released, how much will it cost, and when will it be available in beta?
Windows 11 will be available later this year, around the holiday season. Microsoft claims it will be available as a free upgrade for Windows 10 PCs, and new PCs with Windows 11 pre-installed will also be available in time for the holidays.
Go to Windows.com and download the PC Health Check app to see if your PC is qualified for the free Windows 11 update. Some people will not wait until the end of the year to get their hands on Windows 11.
Next week, Microsoft expects to release an early copy of the software upgrade to its Windows Insider Program. However, this will not be a comprehensive release with all of Windows 11's capabilities.
Design changes in Windows 11 include a new Start menu and a new look.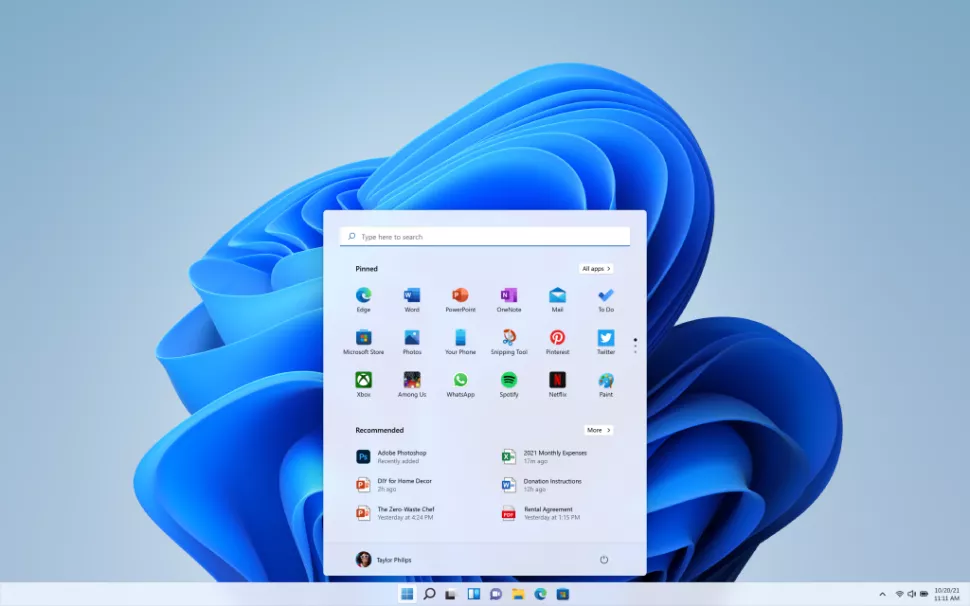 Windows 11 features a new appearance and feel that is intended to be more appealing while also being more user-friendly. There's a new Start button in the centre, and tapping it will display you your latest files, documents, and programmes.
The Start menu has been changed from a long list of apps to a grid of selected applications and a second grid of suggested papers. A "All Apps" button will most likely take you to the standard list of apps.
The main objective is to reach where you want to go as quickly as possible. The new Windows 11 also has more rounded corners on programmes to make them seem more modern, as well as a simplified taskbar. There are also new colours and transitions, as well as a new dark mode that highlights information.
Snap Layouts, Snap Groups, and docking in Windows 11
Snap Layouts are now available in Windows 11. You may choose the Snap Layout you wish to use so that you can run many apps at the same time. For example, you might put two applications side by side, three in columns, or four in a grid, for a total of six options.
If you ever get disoriented after responding to a notification, Windows 11 offers a new Snap Groups function in the taskbar. So you may return to what you were doing before you had to respond to that mail.
The same is true for the new docking experience. When you disconnect a monitor to relocate it, the windows that were on it will be minimised. When you return and reconnect to a dock, all of your Windows will reappear as they were before.
Windows 11 widgets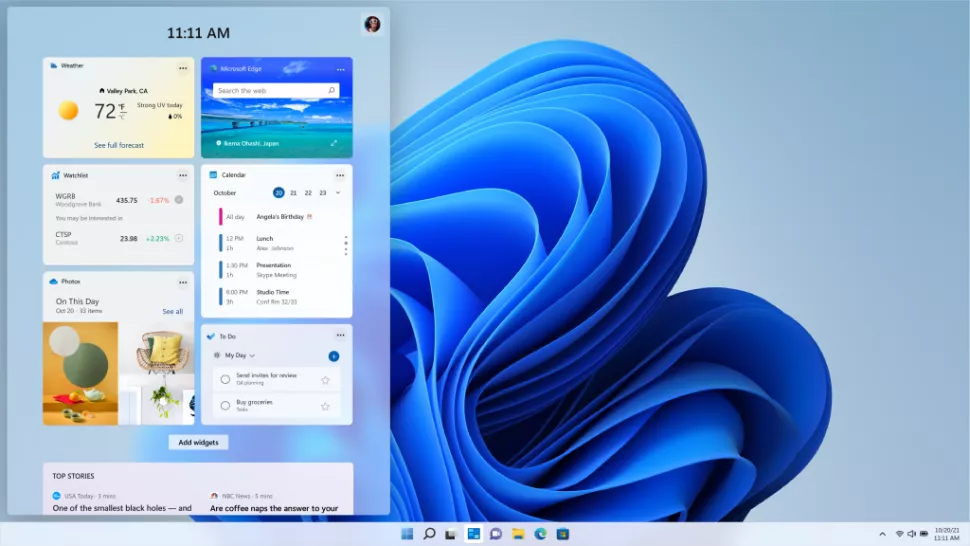 Windows 11 has a completely new set of Widgets that are driven by Microsoft Edge and AI. These widgets allow you to check your calendar, weather, news, to-do list, photographs, and other information at a glance.
Widgets provide you with a stream of information that you may customise, and you can choose how it appears on your desktop. Widgets may be configured to cover a piece or all of your desktop, depending on your needs.
Improved touch, pen, and speech support in Windows 11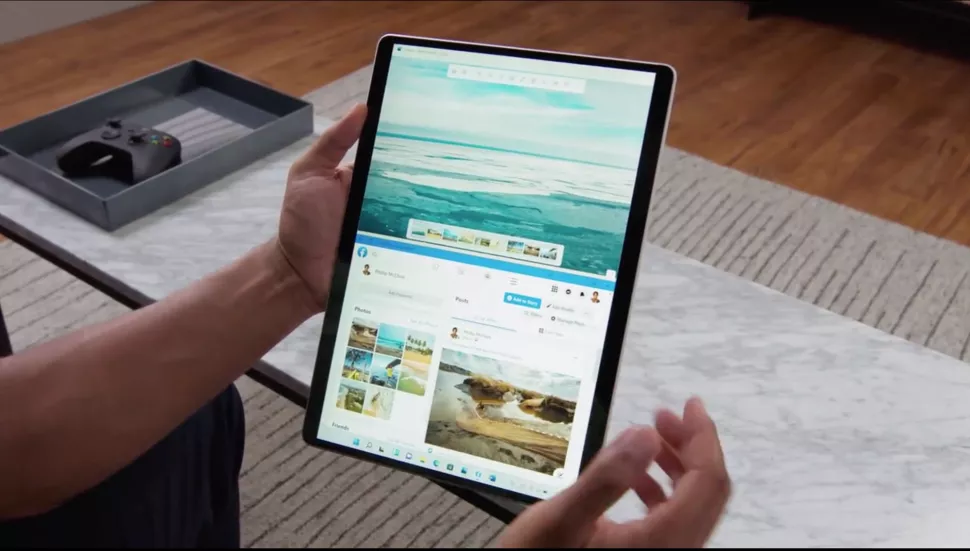 Windows 11 includes a lot of input improvements, notably for touch. In the touchbar, for example, there is greater space between icons, making it easier to tap the correct object. To that purpose, Microsoft is increasing the size of touch targets and including visual hints to make it easier to resize and move windows.
The onscreen keyboard has been overhauled and made more configurable. If you use a pen or stylus to interact with your Windows 11 PC, you may expect enhanced haptics that sound and feel like you're using a genuine pen.
In Windows 11, Microsoft promises more accurate speech-to-text transcription and automatic punctuation, as well as enhanced voice recognition for text input. You may even utilise voice commands in a document, such as "delete that."
Windows 11 Desktops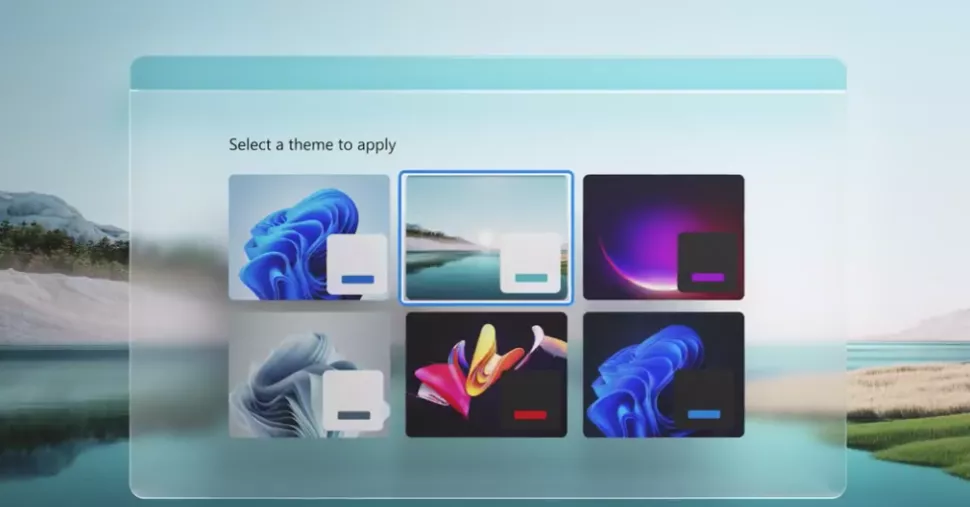 n Windows 11, you may now customise individual desktops with their own backgrounds. As an example, you may have a desktop for work, home, school, or gaming, each with its own collection of programmes and interface.
New Windows Store and Android Apps in Windows 11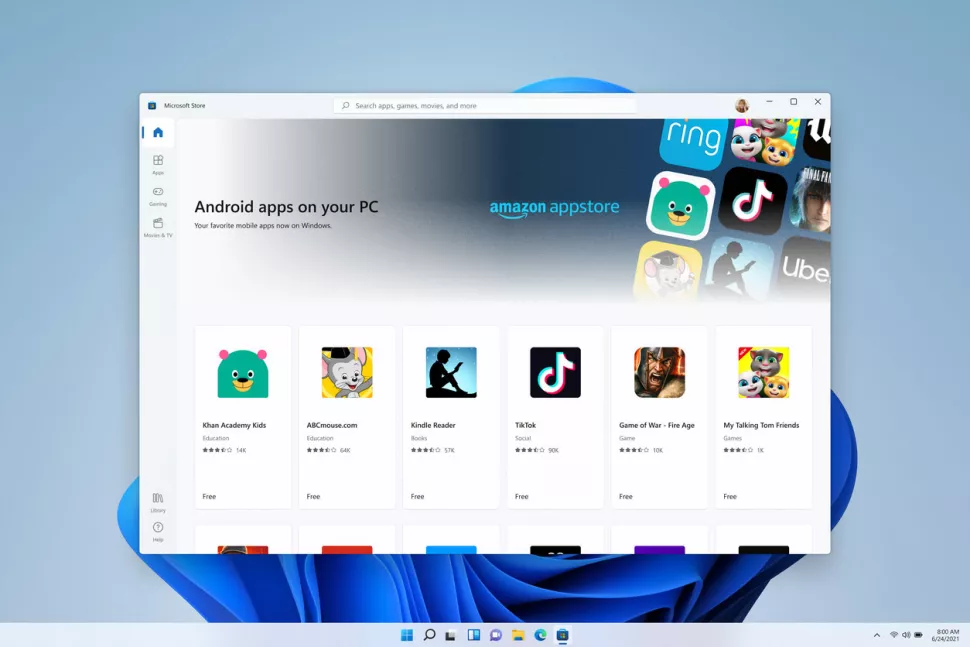 Microsoft is redesigning the Microsoft Store in Windows 11, making it easier to find the programmes you're looking for. That's all well and good, but the announcement that Android apps will be accessible for Windows 11 immediately is likely to garner the greatest attention.
Microsoft says that before the end of the year, you'll be able to find Android apps in the Microsoft Store and download them through the Amazon Appstore. The method looks to be a little difficult at the time, but Microsoft promises to give more information on the experience in the future months.
Windows 11 gaming: Auto HDR and DirectStorage
Gaming has always been a significant part of Windows, and this tendency is likely to continue with Windows 11. Microsoft is introducing a number of new features in its operating system that are specifically meant to enhance the gaming experience.
Auto HDR, in particular, is coming to Windows 11, allowing app developers to improve contrast and colour output without requiring them to alter their games. During the Windows 11 launch event, Microsoft showed a split screen of Skyrim, with one half of the game in SDR and the other in the new Auto HDR. The Auto HDR image was noticeably brighter and more detailed than the standard image.
Windows 11 also has a DirectStorage API. If you've used an Xbox Series X or Series S, both of which feature direct storage, you'll notice a significant improvement in load times.
Finally, Xbox Game Pass, Microsoft's gaming subscription service, will continue to be available through the Xbox app on Windows 11.
Windows 11: Teams integration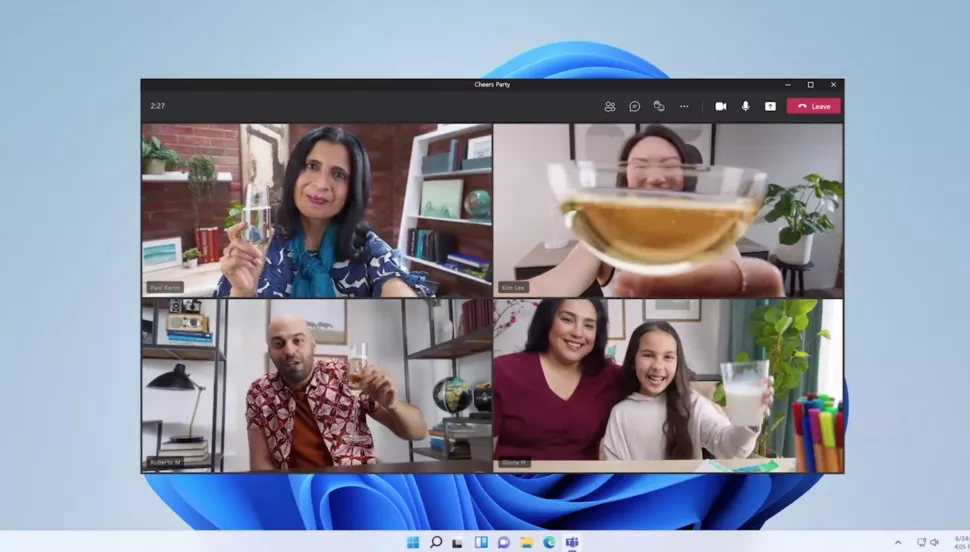 Microsoft intends to make Teams much more widely available by integrating it directly into Windows 11. You may connect using Microsoft Teams chat via video calls, text, or voice. It will also be compatible with Windows, Android, and iOS (whereas FaceTime will not have an app and will only work over online connections). You may also start presenting right away from the taskbar.
Windows 11 Outlook
Overall, Windows 11 does not look to be a reimagining of Windows, but it appears to be a bigger leap forward in productivity and entertainment (especially gaming) than macOS Monterey. The new multitasking features and the revamped Start menu appeal to us much. Keep a look out for our Windows 11 hands-on impressions.