Seiko WristMac, which was released in 1988, is 26 years older than the Apple Watch, which is thought to be the first Apple wristwatch. Ex Machina Inc and Seiko cooperated in 1988 to create the WristMac, an Apple-inspired smartwatch. The WristMac was used by astronauts on the Atlantis space shuttle, it had a portable Macintosh, and was used to send emails.
The smartwatch was used to remind astronauts on the "Atlantis" mission to take images of a specific feature on Earth or in space, according to a New York Times report.
Now one of these smartwatches is up for auction on ComicConnect.com, with estimates ranging from $25,000 to $50,000 (about Rs 18,62,400). (approximately Rs 37,24,900). 
ComicConnect
ComicConnect, which specializes in selling rare comics, is currently auctioning off the Seiko WristMac. Astronauts on the space shuttle Atlantis wore the watch, which was widely regarded as being ahead of its time.
ComicConnect obtained a rare model of the watch that was released as a Macintosh attachment in the early 1990s.
It's up for auction on the internet, and interested parties can buy it until the auction finishes on December 19, 2021. The watch has been photographed and uploaded to the ComicConnect website, and it does appear to be ahead of its time.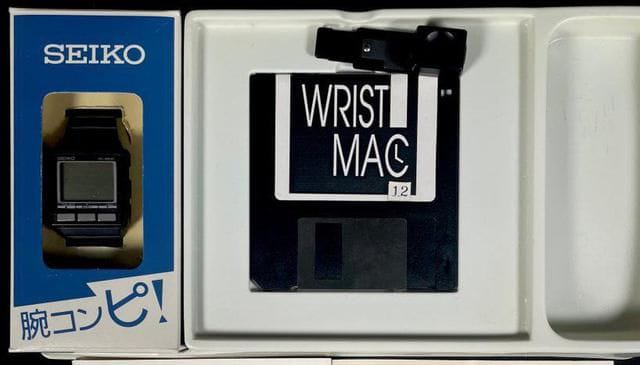 The auctioneers described the black strapped watch with many buttons as "a very rare 1988 Seiko / Ex Machina WristMac."
The watch is described as "one of the earliest pieces of wearable computing technology" on the website. The watch has 27 bids as of 3:15 p.m. on Tuesday, with the highest call being USD 800 (approximately Rs 59,570).
Detailed information on the Seiko WristMac:
According to the website, the watch was a forerunner of the Macintosh Portable, which was released in 1989 and was the first battery-powered Macintosh as well as the first portable Apple computer.
According to the website, the Apple Watch, which has gone through seven iterations as of October 2021, was first released as an ide with the WristMac 25 years prior to the Apple Watch.
The crew aboard the Atlantis Space Shuttle wore Seiko WristMac watches to coordinate with the Macintosh Portable and Apple Link software aboard the shuttle, according to the website.