Ryzen processors are the most popular desktop processors on Amazon and Newegg.
Intel has been able to chip away at AMD's lead in desktop CPU sales at Mindfactory, a large online computer parts retailer in Germany, over the last few months, but AMD still has a commanding lead, according to the latest sales numbers. In July, AMD CPUs accounted for three out of every four processors sold.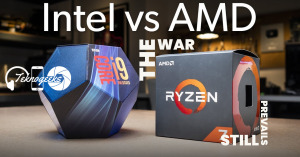 In July, AMD's desktop CPU market share fell marginally to 76 percent at Mindfactory, with Intel accounting for the remaining 24 percent. AMD's market share has dropped from 82 percent in June to 85 percent in May, according to new sales data charts posted by Reddit user ingebor (via TechRadar), who routinely publishes Mindfactory updates.
It's important to remember that this data just represents one shop, not the entire market. Regardless, the trend is consistent with what other major stores are reporting. Various AMD Ryzen processors, for example, account for seven of the top 10 best-selling CPUs on Amazon, and eight of the top ten overall. The first two slots are taken by AMD's latest generation Ryzen 5 5600X and 5800X processors.
AMD or Intel – Who is the Top Seller – ??
Seven of the top 10 best-selling CPUs on Newegg are Ryzen processors, with the 5600X once again earning the top spot.
This isn't an instance of lower-cost CPUs skewing the results. The Ryzen 9 5950X, which costs roughly $800, is the sixth best-selling desktop processor on Amazon and Newegg. It makes you wonder what the split would be if AMD's two fastest Zen 3 chips—the 5950X and 5900X—were consistently out of stock in the beginning.
The good news for Intel is that, despite Zen 3's high demand, it was able to wrest some desktop CPU market share from AMD at Mindfactory this year. AMD finished 2020 with an 83 percent -17 percent share of the market, whereas Intel had an 83 percent -17 percent share. The sales graph was updated in April of last year, when AMD CPUs had a 91 percent market share compared to Intel's 8%.
This is reflected in the revenue breakdown, with AMD CPUs commanding greater pricing than they did before Zen. In July, AMD processors accounted for 81 percent of Mindfactory's desktop CPU revenue, while Intel shipments accounted for 19 percent.
Looking ahead, it will be interesting to see if Intel's Alder Lake launch changes the game, or has any impact on Mindfactory's vast discrepancy. It's possible: according to newly released benchmarks, Alder Lake's single-threaded performance is 22% better than Zen 3. If it holds up, that would be a fascinating option. With Alder Lake set to open this year, we'll find out soon enough (possibly as early as October).