Prices for AMD Radeon RX 6000 and NVIDIA GeForce RTX 30 series cards have dropped dramatically in recent months. While both series continue to be priced above MSRP, GeForce RTX 30 cards are currently twice as inexpensive in Germany as they were in May.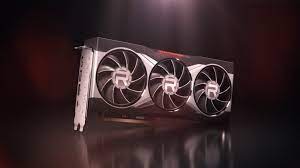 We noted a few weeks ago that the costs of AMD Radeon RX 6000 and NVIDIA GeForce RTX 3000 series cards were finally falling after appearing to peak in May. The average selling prices of graphics cards in Germany have been re-evaluated by 3DCenter, as seen in the figure below. In summary, AMD and NVIDIA graphics cards are as affordable as they have been since the beginning of 2021.
NVIDIA graphics cards are decreasing faster than AMD counterparts, although they peaked at a considerably higher price than their MSRP. By mid-May, the RTX 30 series had surpassed 3x its MSRP, while the RX 6000 series had only surpassed 2.14x. Both series, however, are already approaching the 1.5x mark; none has been this close to their MSRPs since late January.
The used market shows this decreasing tendency as well. While still considerably above MSRP in most situations, the RX 6700 XT currently sells for around £600 in the UK and US$700 in the US on eBay. In late May, the same card would have cost you around £800/US$1,000. Similarly, used GeForce RTX 3070 prices have dropped to £800/US$1,100, a long cry from the £1,200/US$1,600 peak, of two months ago.
Overall, purchasing a new Radeon RX 6000 or GeForce RTX 30 series GPU at MSRP remains unlikely. Second, prices are no longer that far off AIB pricing, but we would still wait to see if prices dropped anymore.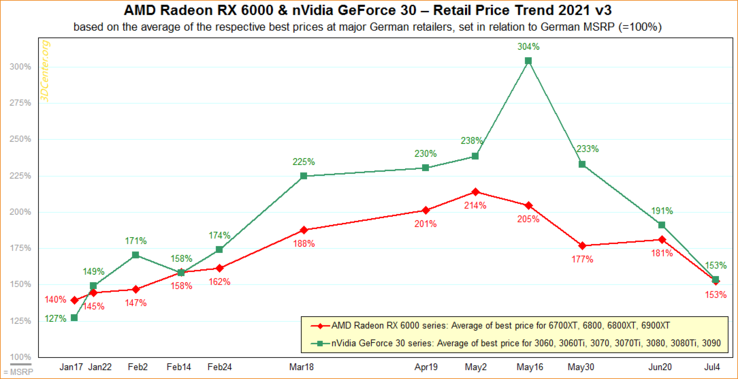 Source(s)
3DCenter via VideoCardz, Digital Foundry – Image credit